The Dolomites holiday region includes the UNESCO World Natural Heritage site of the Dolomite mountains themselves, with the well-known outline of the Drei Zinnen peaks and the craggy, partly-glaciated slopes of the Ahrntal Valley. High Alpine peaks and idyllic valleys alternate and blend mountain and maritime climates in a refreshing and agreeable way. Europe's largest high Alpine pasture, beautiful and enchanted mountain lakes, the most famous summits – all these can be discovered on two wheels, as the Dolomites are ideal for exploring by bicycle: there is a large selection of well-maintained cycle ways and trails and a number of cycling events in the surrounding areas.
For mountain bikers the Dolomites are a dream come true: there are innumerable routes at different altitudes for dedicated pedallers, with excursions for every ability described in many different publications. It is also possible to arrange guided tours through the Dolomites with qualified
mountain-bike guides
. For true biking freaks there is the
Stoneman Trail
tour: 120 kilometres and 4569 metres of ascent, while road bike enthusiasts can take on the finest passes in the Dolomites. Down below, the impressive mountain views of the
Pustertal Valley cycle trail
entice leisure cyclists and families alike into the saddle. There are many places for cycling, but the Dolomite panoramas makes this holiday region unique!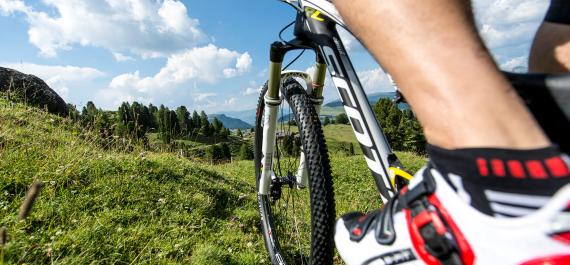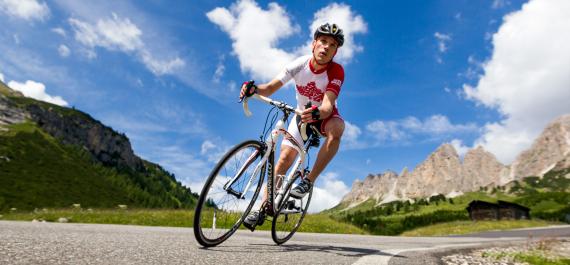 Reasons for cycling in the Dolomites
cycling season from mid/end-March to October
pleasant temperatures along a wide range of cycle ways
unique and breathtaking (mountain) landscapes
biking on the Seiser Alm, Europe's largest Alpine pasture, and nature highlights such as the Rosengarten mountain, the Karersee Lake, the Pragser Wildsee Lake and the peaks of the Drei Zinnen
trails, passes and meadow paths – there is a Dolomites experience for every type of cyclist